Irish Discworld Convention
October 20
–
October 23
UTC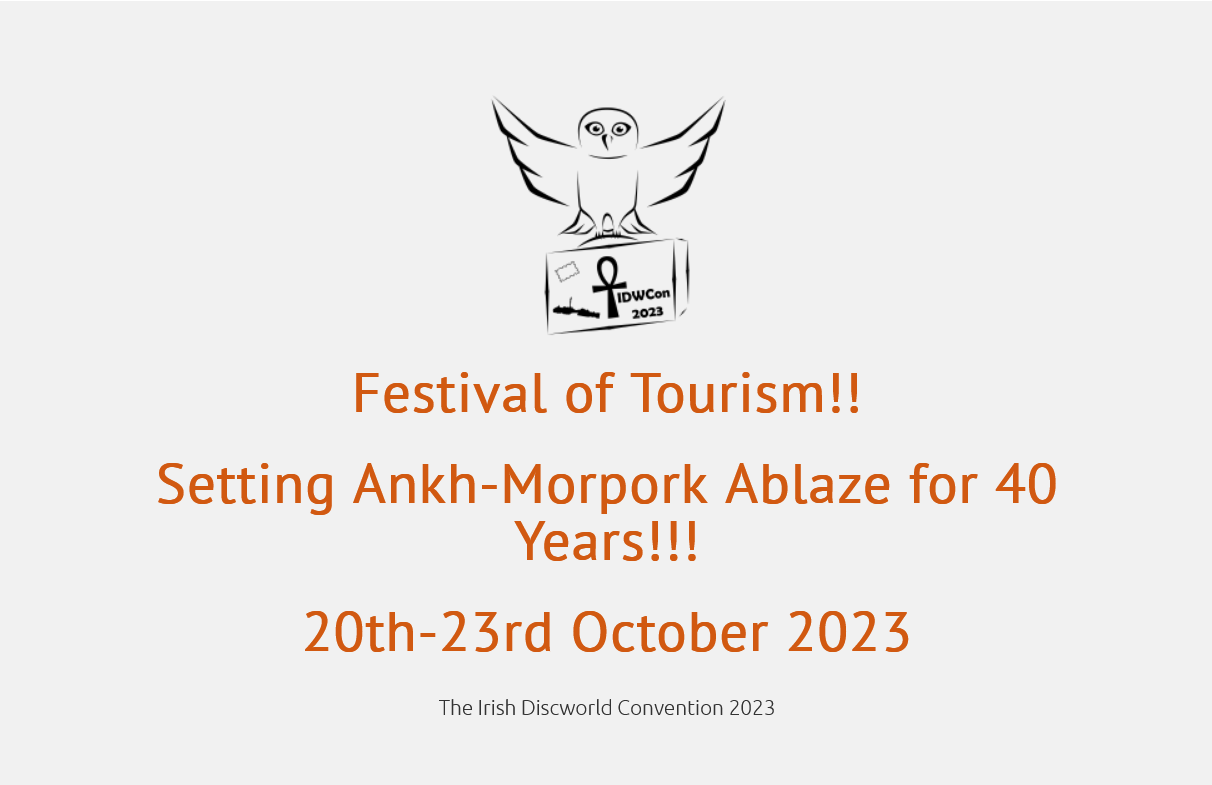 The IDWCon is a gathering of people who like Terry Pratchett's Discworld book series, organised for fans, by fans. We get together in a hotel for four days every two years go to talks, play games and quizzes, watch a talent show, chat to people who share our sense of humour and generally have a great time.
Whether you have followed the story of the Discworld from its inception or have just finished reading your first story, IDWCon welcomes you to meet with those involved in the creation of the Discworld, pick up souvenirs, books or memories, and share your enjoyment with other Discworld fans through chatting, going to events, and playing games.
Attending a gathering of Discworld fans has been described as "meeting friends you didn't know you had". Our attendees come from all over the world, and from just down the road. A lot of people come for the first time, alone and confused, not really sure what it's all about, and they leave with firm friends and a promise to return for the next one. We hope you'll come and satisfy your curiosity if this is all new to you. And we hope to welcome many of last time's members back again.
The Convention is run by a group of fans, who volunteer their spare time to organise every last detail. It's a not-for-profit event, so all the profit beyond what we need to run the convention goes to our chosen charities. We raise money for them in a variety of ways, including a Charity Auction and selling an eclectic mix of IDWCon-exclusive Discworld merchandise and memorabilia.. After a lot of discussions, research and deliberation we have decided that the Irish Discworld Convention 2021 will be held fully online.
Our hand has been forced – but luckily we are quite prepared for this!! Please do not fret.
We have excellent, sneaky and extravagant plans to bring you THE most fun, exciting and entertaining online Irish Discworld Convention you can possibly imagine. We have spent many hours over the last 3 months researching to find the perfect online platform that will allow us to maintain the friendly and social heart of IDWCon. We are actually quite excited about the possibilities and avenues that this will open up for us.
We have a whole new set of ideas as to how the games will be played and the songs will be sung – so please do not despair!
We know many of you will find this upsetting, and we wish this didn't have to be the case – but at the end of the day – you folk are just too important to risk.